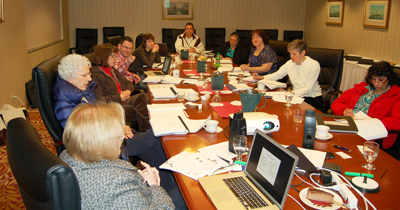 Participants receive:
Three intensive days of mentally and emotionally challenging learning.
The ability to speak with authority and credibility on the topic of workplace bullying.
270+ research articles upon which the WBI evidence-based approach is grounded.
In-depth coverage of the presentation components customized for different audiences, focusing on areas such as targets, employers, lawmakers, and unions.
Copies of the Namies' books: The Bully-Free Workplace (2011) and The Bully At Work (2009, 2nd ed.)
A binder of discs (More than 50 hours of audio and video) to enhance your ongoing education, which include: electronic presentations, video clips, interviews, and audio seminars.
An interpretation and thorough understanding of the WBI national U.S. Workplace Bullying Surveys (2007 & 2010) from the authors and owners of the results.
A thorough assessment of current international research in neuroscience, epidemiology, and the social and management sciences.
Review of existing and proposed anti-bullying laws in U.S., Canada, and the world. We are also directing the national campaign to enact the anti-bullying Healthy Workplace Bill.
The chance to work intensively with like-minded participants who have lived the experience.
How you will benefit:
The problem of Workplace Bullying is gaining increased attention in the media and in state legislatures. Use your skills to spread the word and educate others about the movement to address this important issue.
Learn from the pioneers of the US workplace bullying movement.
Jump-start or supplement your professional speaking career.
Use WBI materials and the WBI perspective on Workplace Bullying.
Become the sought-after local expert!
Note: University prepares participants to be educators, not to be consultants.